Regular price
Rs. 349.00
Sale price
Rs. 120.00
Unit price
per
Sale
Sold out
7 Days Replacement

Free Delivery
7 Days Replacement
Secure Transactions
Perfect Fit: The SwitchRider is a 6Pin 2 position rocker switch, designed specifically for battery-operated car ride-on toys. Snap 16A 250V, 20A 125V, it's perfect for all standard ride-on cars.
Easy Identification: The distinct Red and Green buttons enable easy identification, even for kids.
Light Indicator: The switch comes with a light indicator which glows when the switch is on, ensuring safety and easy use.
Durable: The switch is made from hardy materials that can withstand regular usage and ensure longevity.
Easy Installation: The SwitchRider is easy to install and replace, making it a convenient choice for parents and caregivers.
For Kids' Fun: This switch is ideal for battery-operated car ride-on toys, enhancing children's driving experience.
Share
SKU:
View full details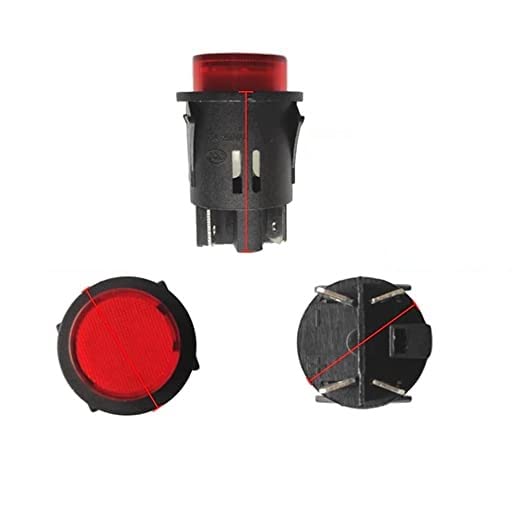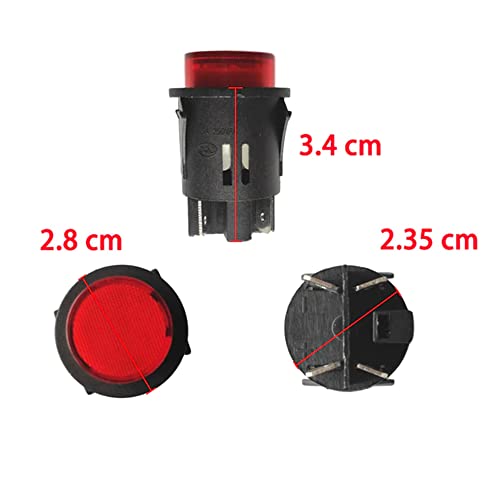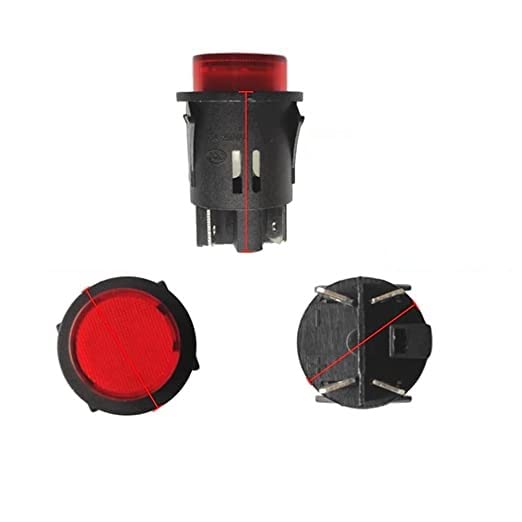 REPLACEMENT POLICY
Which items are eligible for a Free Replacement?
Prime eligible items and few Seller Fulfilled items are eligible for free replacements. If an eligible item is out of stock , it cannot be replaced. Only a refund against the returned item will be issued.
What are the conditions for Free Replacement?
Items within return window and in stock (exact same item) with same seller are eligible for free replacement. The free replacement order will be shipped through standard shipping once the original order is returned. Free replacements can be requested if the following conditions apply:
Item received is physically damaged;

Item received has missing parts or accessories;

Item received is different from their description on the product detail page on Amazon.in; or

Item received is defective/does not work properly.
Note:
A free replacement cannot be created for an item which was returned and replaced once earlier.

If your item is not eligible for free replacement due to any reason, you can always return it for a refund.

If your item is "Seller-Fulfilled" and is not eligible for a free replacement, please to request a refund.

If the item has missing parts or accessories, you may try to contact the manufacturer for assistance. Manufacturer contact information can usually be found on the item packaging or in the paperwork included with the item.
Which Items are not elifible for a replacement And in which conditoins 
All type of board games and puzzels,

Non eligible for replacement

If main outer packing is opened

All Type of Electronic toys , Flyers, Helicoptors , drones , remote control toys
Non eligilbe for replacement
Security And Privacy
Secure Transactions at MMTOYWORLD
Prioritizing Your Security
At MMTOYWORLD, we treasure the trust you place in us. When you shop with us, rest assured that every measure has been taken to guarantee a safe, smooth, and secure transaction.
Leveraging Leading Technologies
Shopify-Driven: Our online platform is powered by Shopify, a world-renowned e-commerce solution known for its high-end security features.

Trusted Payment Partners: We have partnered with Razorpay and PayPal, leaders in the digital payment domain, to ensure that your payment is processed securely and efficiently.

SSL Secured: Every step of your journey with MMTOYWORLD, from browsing to checkout, is encrypted using SSL (Secure Socket Layer) technology, safeguarding your personal and financial details.

Razorpay Trust Seal: Our commitment to safety is further emphasized by the Trust Seal from Razorpay, which stands as a testament to our adherence to secure transaction practices.
Handling Your Information with Care
Direct Information Collection:
When you interact with MMTOYWORLD, certain information is collected to enhance your experience. This includes, but isn't limited to:
Searching or shopping for products.
Adjusting shopping cart contents or placing orders.
Streaming, downloading, or using content on devices.
Adjusting your account settings or profile.
Interacting with our voice service.
Uploading images, videos, or other files.
Participating in discussion boards, reviews, or community features.
Engaging with reminders, alerts, or notifications.
Automatic Data Gathering:
We also gather information automatically to further personalize your shopping experience:
IP addresses and device locations.
Login credentials and device metrics.
Content interactions, download histories, and streaming details.
Settings preferences, errors, or event details.
Interaction details and paths on our site.
Call logs when reaching our customer service.
Information from Collaborators:
Sometimes, we receive updated or additional information from our partners and other third-party sources to streamline your shopping experience.
Your Access to Information:
For transparency, MMTOYWORLD allows you to access and adjust a range of information, including:
Order history and status.
Personally identifiable information.
Payment and notification settings.
Recommendations based on browsing history.
Voice recordings related to your account.
Shopping lists, gift registries, and more.
Our Stance on Children's Shopping
At MMTOYWORLD, we are committed to the safety and privacy of our younger visitors. We recognize the importance of safeguarding the information collected from children.
Age Restrictions: We do not sell products for purchase by children. Our products are intended for purchase by adults. Individuals under the age of 18 years may only use MMTOYWORLD services under the supervision of a parent or legal guardian who agrees to be bound by our terms and conditions.
Guardian's Responsibility: If you are a parent or guardian, it's your responsibility to monitor and guide your child's online activity. We encourage you to be aware of the various parental control tools available that help provide a child-friendly online environment. These tools can prevent minors from disclosing their name, address, and other personal information online without parental permission.
We are dedicated to ensuring a safe shopping experience for all our users and are particularly attentive to the privacy and shopping rights of our younger visitors.
Advertising at MMTOYWORLD
Our platform may include third-party advertising and links to other sites and apps. We partner with advertising firms that may gather data when you engage with their content. While we aim to provide relevant MMTOYWORLD ads and measure their impact, it's essential to note that our partners might collect data based on their policies. You can adjust your preferences at our Advertising Preferences page.
We're Here for You
If you ever face any issues or discrepancies regarding transactions, please don't hesitate to reach out. Our dedicated team is available via:
We're committed to resolving any concerns within 24 to 72 hours. As always, your security and satisfaction are paramount at MMTOYWORLD.
"MM Toys SwitchRider: Red Green Boat Rocker Switch with Light, Suitable for Kids' Battery Operated Car Ride-On Toy, Snap 16A 250V, 20A 125V 6Pin 2 Position